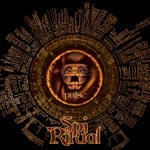 GERMANY

GENRE: METAL

LABEL: LASER'S EDGE

WEBSITE:

REVIEWED: 2007 MAY 2ND

RATING: 55/100
Gli Spiritual sono il nuovo progetto di Stefan Hertrich, ventinovenne musicista conosciuto per la sua militanza nel gruppo gothic-metal tedesco Darkseed.
Con questo disco intitolato "Pulse", Stefan tenta la carta del cross-over con la speranza di cucire una veste alternativa al death-metal perché non sembrasse sempre la solita minestra ed il più possibile originale. In parte c'è anche riuscito, rendendo quantomeno ascoltabile un disco essenzialmente death-metal alle orecchie di chi questo genere neanche lo avvicina per errore.
"Ethno-metal" è l'etichetta con cui si auto-definiscono gli Spiritual ed è figlia di una palese compenetrazione tra un death-metal brutale con chitarre aggressive e voce cavernosa e numerosi inserti più d'atmosfera ottenuti grazie all'utilizzo di strumenti quali flauto, percussioni e vocalizzi tipici dei paesi asiatici.
Dicevo che l'effetto complessivo non è del tutto disprezzabile poiché ciascun brano contiene un incipit, un break centrale e spesso la parte finale proprio caratterizzati da queste linee melodiche etniche che creano un contrasto forte con la brutalità ed il "growl" tipicamente death-metal. Purtroppo, una volta terminato l'effetto-novità (già con il terzo brano) chi non è avvezzo a certe sonorità difficilmente riuscirà a terminare l'ascolto di "Pulse".
Apprezzo il tentativo di portare aria fresca e di avvicinare i detrattori del "growl" a questo genere, ma "Pulse" rimane un prodotto riservato esclusivamente ad una strettissima fetta di pubblico.

Spiritual is the new project by Stefan Hertrich, the 29 years old member of german gothic-metal band Darkseed. "Pulse" is the debut album.
They describe themselves "Ethno-metal", a blend of brutal death-metal and several ethnic influences made of flute and eastern percussions. This more accessible component is always atmospheric and melodic.
I appreciated their attempt to bring new ways and solutions to death-metal sound and the clear contrast between the two souls (featured in all the songs) is quite effective.
The effect of this clever cross-over of ethnic sounds and death-metal vanishes after three/four tracks. In the long run the "growls" and brutality prevail over everything else to my ear.
I must say this is the first time I listen to a death-meal record from start to finish but I can recommend "Pulse" only to death-metal fanatics who want to listen something different.
Luca Alberici
Have you a different point of view? Please write me !!!