SONUS UMBRA
SPIRITUAL VERTIGO (2003)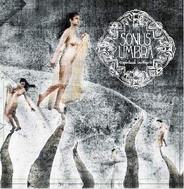 U.S.A.

GENRE: PROG

LABEL: INDEPENDENT

WEBSITE: SU official

REVIEWED: 2004 FEBRUARY 20TH

RATING: 80/100

L'istrionico e simpaticissimo Luis Nasser, bassista e mente creativa dei Sonus Umbra, mi aveva anticipato che il nuovo (e secondo) lavoro della band sarebbe stato sostanzialmente differente dal primo. In effetti all'apparenza "Spiritual Vertigo" può sembrare più ostico, più sfuggevole e meno appariscente del precedente "Snapshots From Limbo",: c'è meno pianoforte e tastiere e nella sua globalità è più pesante ed aggressivo. Tuttavia si può dire che le caratteristiche principali e distintive del suono dell'ombra siano rimaste inalterate, cosi come la buona vena creativa che sta illuminando questa prima parte della loro carriera: reputo unica ed irresistibile la sapienza con cui sanno far coesistere all'interno di ciascun brano la melodia pura e l'aggressività, la malinconia ed il brio, l'oscurità ed il fulgore. Tutti opposti che qui si attraggono in un perenne equilibrio instabile ottenuto grazie al calore della chitarra acustica di Luis Nasser, la voce nasale, molto evocativa e narrante di Andres Aullet, nonché dalle note gravi del pianoforte.
Dicevo che l'alchimia è la medesima ma gli arrangiamenti di "Spiritual Vertigo" sono in realtà molto più sporchi e diretti in sintonia con le liriche forti di accesa denuncia rivolta soprattutto al sistema americano ed all'annosa questione mediorientale. Episodi come "Bone Machines" e "Fascinoma" si distinguono per la sezione ritmica fitta e minacciosa, mentre in "Fool's Arcadia"( superlativo qui il contrasto tra la tranquilla introduzione ed il giro di basso che cambia faccia al brano), in "Man Of Anger And Light" ed in "Timequake" prevale la componente più melodica e malinconica dello stile della band . "Self Erosion" ha più o meno le stesse caratteristiche di morbidezza ma nel finale accelera con un assolo di chitarra mozzafiato. Rispetto al disco precedente ho notato anche meno palesi riferimenti ai Pink Floyd che, se da una parte rendono questo nuovo lavoro meno prog nel senso stretto del termine, dall'altra gli consentono di esprimere una maggiore originalità e personalità.
Un gran bel disco, che, vi confesso, non mi ha coinvolto subito, ma che proprio per questo ha poi raggiunto vette di gradimento personale ancora più elevate. Molto consigliato !!
The sound of Shadow is back, darker and brighter than ever !! As Luis Nasser told me in advance, the new album "Spiritual Vertigo" is a little heavier and stronger than "Snapshots From Limbo". It's also more fleeting and less striking; the Pink Floyd strong influence partially vanished here (I found only some traces in the last two songs) and it means they're looking for their own personality and unique sound. Nevertheless the typical Sonus Umbra approach to music is always the same, as well as the high creative vein they're showing us. Each song has both pure melodies and aggressiveness, melancholy and joy, darkness and brightness: all these opposites keep themselves balance. Tracks like "Bone Machines" and "Fascinoma" have a thick rhythmic section, while "Fool's Arcadia" (really exciting !!), "Man Of Anger And Light" and "Timequake" show the melancholic side of Sonus Umbra music. Finally "Self Erosion" starts in the same vein and then goes a little faster with a wonderful guitar solo at the end. Wow !! As always, Luis Nasser has something to say, so lyrics aren't less important than music: here he criticizes the american system with its contradictions and talks about the never ending tension between Israel and Palestine. Is it quite clear now why aggressiveness and sadness can live together ??
A recommended effort in my opinion. The band's recommendation is to sit comfortably, have a drink and push play.
Luca Alberici
Have you a different point of view? Please write me !!!