IAN PELLOW
FRUIT ALLURES (2006)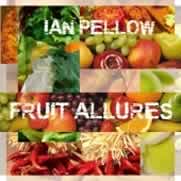 SCOTLAND

GENRE: PROG-JAZZ

LABEL: INDEPENDENT

WEBSITE:

REVIEWED: 2007 MARCH 16TH

RATING: 70/100
Non conoscevo Ian Pellow ma dalla cover e dai titoli dei brani del suo secondo disco autoprodotto intitolato "Fruit Allures" ho capito subito che non potesse essere un'artista cosiddetto "mainstream". Ian, canadese di nascita ma scozzese d'adozione, è un musicista molto attento a diversi generi musicali (lui stesso cita Frank Zappa, Chicago, Joni Mitchell, Allman Brothers Band, la musica classica ed il Jazz come sue principali influenze) ed è dotato di quel tocco di genialità e di originalità (non follia) che gli consente di tirare fuori dal cilindro undici composizioni frizzanti, ottimamente eseguite ed anche registrate molto bene a dispetto dell'auto-produzione.
Il disco è interamente strumentale e lo definirei rock a 360 gradi con preminenti influenze sinfoniche e jazzistiche, mai troppo "free" come il suo maestro Zappa e quindi agevolmente ascoltabile da una discreta fetta di pubblico.
Un bel dischetto a cui tuttavia mancano le classiche ed auspicabili due o tre zampate veramente vincenti.

I didn't know Ian Pellow and his music. "Fruit Allures" is the second album by this Canadian/Scottish musician.
Both the cd-cover and the songs' titles let us understand that Ian couldn't be a "mainstream" artist. He's rather influenced by various styles but the most clear are jazz and symphonic rock. Some artists cited by himself as deep influences are: Frank Zappa, Chicago, Joni Mitchell, Allman Brothers Band and others.
You'll find 11 tracks of exciting and well-played jazz rock. Although he's a Frank Zappa fan he never exceeds with too much free and hard-to-swallow solutions.
No weak tracks but I think "Fruit Allures" lacks of two/three really impressive tracks.
A good effort for those who are fond of instrumental, skilled and quite flowing prog-jazz. Not bad, really !!
Luca Alberici
Have you a different point of view? Please write me !!!