ASIA
SILENT NATION (2004)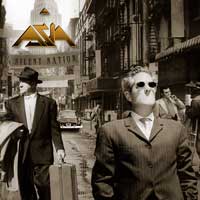 U.S.A.

GENRE: ROCK

LABEL: INSIDE OUT

WEBSITE: official site

RATING: 75/100
Commentare un disco degli Asia significa correre il rischio di ripetersi, di scrivere più o meno sempre le stesse cose e ciò avviene anche perché la proposta musicale della band americana è statica e non ne vuol sapere di evolversi. Non che questo mi rechi alcun disturbo, anzi ho sempre apprezzato il loro modo tradizionalista ma molto ispirato di comporre musica. E' come se si chiedesse ad un fan storico degli Ac/Dc se è soddisfatto della testardaggine con cui la sua band preferita fotocopia i propri dischi. La risposta sarebbe scontatamente affermativa.
A proposito di Ac/Dc: una novità importante c'è stata ed è l'inserimento di un nuovo batterista nella persona proprio dell'ex Ac/Dc Chris Slade. Inoltre "Silent Nation" passerà certamente alla storia come il primo disco nel quale gli Asia hanno abbandonato la consuetudine del titolo costituito da un'unica parola, con la lettera "a" ad ambedue gli estremi. Eppure sarebbe stato sufficiente sfogliare un qualsiasi vocabolario per proseguire con questa bizzarra tradizione.
Ma analizziamo il disco dal punto di vista musicale: convince l'apertura del disco con "What About Love", il classico singolo con velleità alpinistiche, ma convincono ancor più "Blue Moon Monday", "Silent Nation", la conclusiva "The Prophet" e "Gone Too Far" con le loro melodie così dolcemente malinconiche, pompose ed epiche che nel corso degli anni sono diventate il vero trademark sonoro degli Asia. L'ultima delle quattro canzoni è ulteriormente impreziosita nel finale da un assolo di chitarra di devastante bellezza estetica.
Peccato la presenza di alcune canzoni povere di contenuti come "Midnight", "Ghost In The Mirror" ed "I Will Be There For You" che abbassano inevitabilmente la mia valutazione finale.
Niente di nuovo quindi dal punto di vista musicale e di questo, ripeto, non posso che essere grato agli Asia che si confermano per l'ennesima volta dei veri campioni nel campo del rock sinfonico d'intrattenimento.
When I review a new Asia release I always run the risk to repeat myself, writing more or less the same things. It can be a reviewer's lack of fantasy but Asia music style certainly doesn't help me to be original. Their music is just always the same without any attempt on progression but, believe me, this doesn't disturb me. I probably like Asia music in the same way a true Ac/Dc fan loves his favorite band and I know you'll understand what I mean.
I talked aboul Ac/Dc, because "Silent Nation" has two important news: there's a new man behind the drums, just the ex-Ac/Dc drummer Chris Slade and then the new album will be recalled for the unexpected choice to abandon the single-word title starting and finishing with the letter "a". It's a little bit strange, because it was enough to consult any dictionary to keep this tradition alive.
Anyway, let's talk about music: the opener "What About Love" is a convincing song, it's the perfect hit-single to climb the charts; but I like much more "Blue Moon Monday", "Silent Nation", "The Prophet" and "Gone Too Far" full of sweet and melancholic melodies, really pompous with an epic touch. That's Asia trademark and I love it.
Unfortunately there are some uninspired songs like "Midnight", "Ghost In The Mirror" and "I Will Be There For You" letting down my final rating.
Asia are true champions of entertaining pomp rock and "Silent Nation" is the unpteenth confirmation.
Luca Alberici